The working group headed by the Minister of Energy visited the construction site of the Uzbekistan GTL
Press center
The working group headed by the Minister of Energy visited the construction site of the Uzbekistan GTL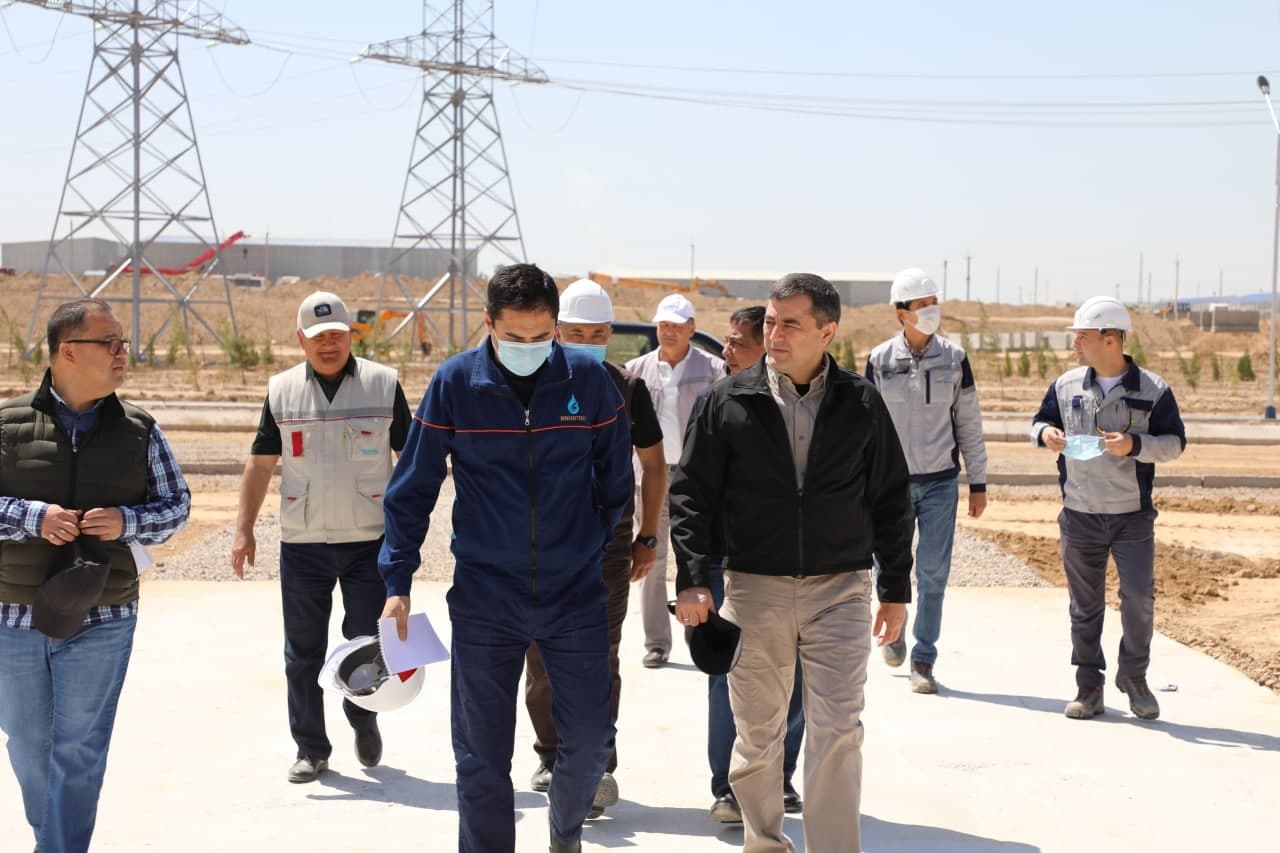 On April 15, 2021, a working group led by A. Sultanov, the Minister of Energy of the Republic of Uzbekistan, with participation of M. R. Abdullayev, Chairman of the Management Board of Uzbekneftegaz JSC, and executive managers, visited the Construction Site of the GTL Complex for production of synthetic liquid fuel in Guzar district of Kashkadarya region.
Once commissioned, the complex will process 3.6 BCMPA of gas to produce 1.5 million tons of high-quality and environmentally friendly synthetic liquid fuel a year, including such petrochemicals as synthetic kerosene (307 thousand tons), synthetic diesel (724 thousand tons), synthetic naphtha (437 thousand tons) and liquefied gas (53 thousand tons).

The GTL Complex will annually produce import-substituting petroleum products and hydrocarbon feedstock totaling around USD 1 billion a year. The manufactured products will primarily be supplied to cover domestic demand for petroleum products, especially diesel fuel, kerosene and liquefied gas. Moreover, the products can also be exported, given the significantly high global demand for synthetic fuel, due to its high quality and environmentally friendly properties. Following the GTL Complex start-up, annual tax deductions to the state budget will exceed an average of 2 trillion UZS.



Against the backdrop of a growing energy market, using GTL fuel is the most efficient, economical and safe way to reduce air emissions.
Construction of the GTL Complex in Uzbekistan is presently at its final stage. As on April 15, the Project's overall progress has reached a 95.4 per cent completion
Within the framework of the Project, detailed design has been fully completed, process equipment delivery to the Construction Site is 97 per cent complete, and completion progress of construction and installation works exceeds 90 per cent. Today, the Project employs over 9 thousand workers and engineers. The phased commencement of the GTL Complex's key production units' startup is scheduled for July and August of this year.



Construction and installation works are nearing completion at the Construction Site now, with the progress of asphalt and crushed stone pavement laying, paint and insulation works and landscaping being well under way.
Today, pre-commissioning, as well as test tests of pipelines and equipment, are being carried out at an active pace in the technological zones of the complex. Pre-commissioning and commissioning works and testing of pipelines and equipment are carried out intensely in the Plant's processing areas.


The GTL complex for production of synthetic liquid fuel consists of 4 key production facilities, which are the utilities supply plant, synthesis gas production plant, synthesis liquid production plant, and product work-up plant.
To date, a number of units have already been brought onstream at the utilities supply plant, in particular, a raw water treatment and processing plant, a demineralized water production system, a fire-fighting water supply system, a fuel gas system, boiler installations – a steam production system, a cooling water system – a cooling tower, and the main and auxiliary substations of the plant, control and instrumentation building, and others have also been put into operation. The central control panel of the Complex and central laboratory, which is currently undergoing national accreditation, have also become operational.



During the visit, the working group closely studied the progress of the pre-startup and startup works, as well as familiarized itself with operation of the Complex's Central Laboratory, which is currently the most innovative and cutting edge among the country's industrial laboratories.
As part of the follow-up to the meeting, the executive managers were instructed to take urgent measures for completion of construction and installation works as soon as possible, territory landscaping, as well as acceleration of pre-startup and startup works of process units. The urgency to meet the schedule of pre-commissioning and commissioning in all areas, as well as enhancing integration of production infrastructure of the GTL Complex and SGCC, was emphasized.



The participants were also tasked to pay special attention to close cooperation with the licensors of Sasol, Haldor Topsoe and Chevron technologies to continuously improve knowledge and skills of the Complex's startup team and operational personnel, as well as to take measures to accelerate completion of the Complex's Administrative Building construction and landscaping of the adjacent territory.
Press Service of the Ministry of Energy
of the Republic of Uzbekistan
16.04.2021

863