The Ministry of Energy and ACWA Power achieve momentous milestones as Uzbekistan enhances its clean energy capacity
Press center
The Ministry of Energy and ACWA Power achieve momentous milestones as Uzbekistan enhances its clean energy capacity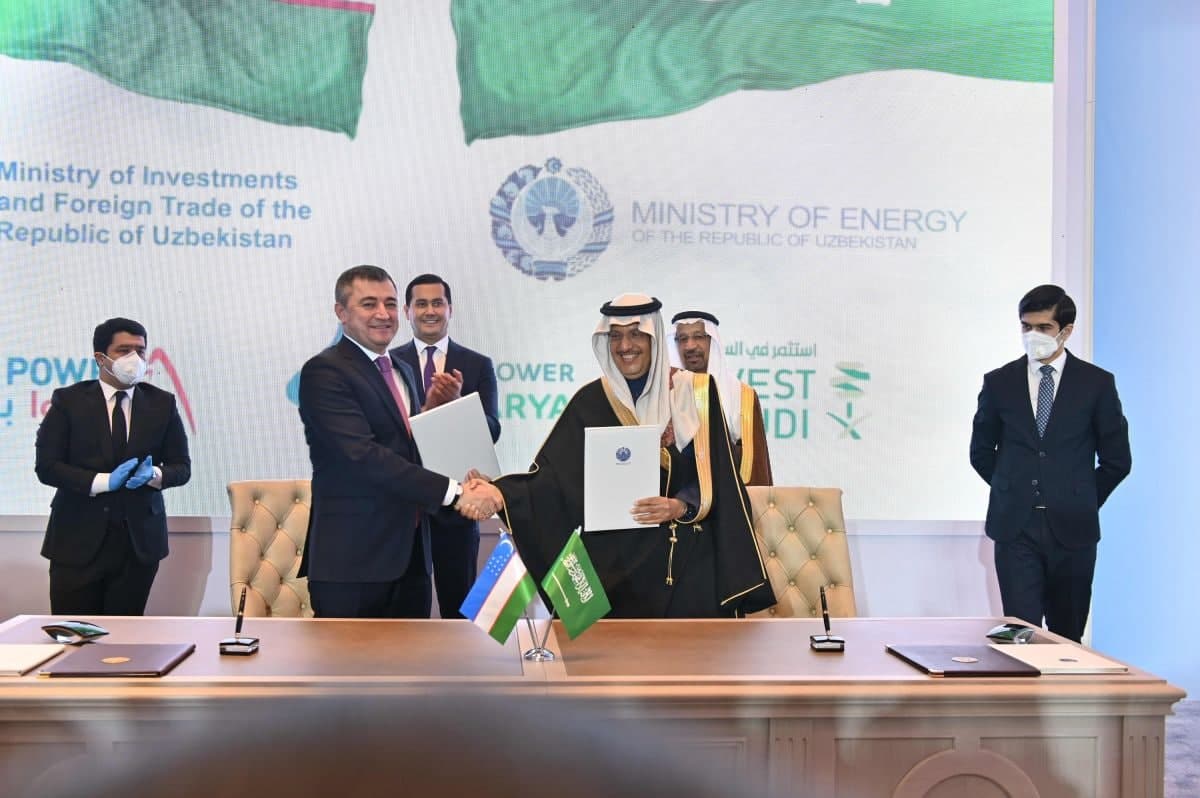 Tashkent, Uzbekistan, 24 January 2020: Following agreements signed in March 2020, cooperation between the Uzbekistan Ministry of Energy, the Ministry of Investments and Foreign Trade, and ACWA Power has led to three major milestones in the development of power projects to enable Uzbekistan's ambitious energy transformation plan and increase energy capacity by 2500MW.


The ground-breaking ceremony of the 1500MW Sirdarya CCGT plant, followed by the signing of two Power Purchase Agreements and Investment Agreements for two wind power plants located in Bukhara and Navoi, was conducted in the presence of Deputy Prime Minister and Minister of Investments and Foreign Trade of the Republic of Uzbekistan, H.E. Sardor Umurzakov, and H.E. Alisher Sultanov, Energy Minister of the Republic of Uzbekistan, as well as a Saudi Arabian delegation led by H.E. Eng Khalid Al-Falih, Minister of Investment for Saudi Arabia and H.E. Hisham Mishal Al- Suwailem, the Saudi Ambassador to Uzbekistan. Other attendees included senior representatives from the Uzbekistan Ministry of Energy, Ministry of Investments and Foreign Trade, ACWA Power and Air Products.



ACWA Power will be delivering these three projects utilising its technical knowledge, expertise, and experience, to contribute directly to meeting Uzbekistan's growing yearly electricity demand, which is expected to reach 110 billion kWh by 2030. The company's contribution is also aligned with Uzbekistan's national mandate to increase energy efficiency, introduce energy-saving technologies, and develop and implement renewable energy sources, under its recent energy sector reforms.


H.E. Eng Khalid Al-Falih, Minister of Investment for Saudi Arabia, said: "These visionary projects mark the start of a new chapter in the investment relationship between Saudi Arabia and Uzbekistan. As the Minister of Investment for Saudi Arabia, it is particularly pleasing to see a homegrown Saudi company such as ACWA Power supporting Uzbekistan to deliver such a vital component of its infrastructure investment program, which is central to the country's economic transformation. The Ministry of Investment for Saudi Arabia is proud to have played a leading role in facilitating this momentous agreement".



"ACWA Power is a true Saudi success story and a cornerstone of the Kingdom's burgeoning private sector. This growth is being supported by various business-friendly reforms introduced by the Ministry of Investments and Foreign Trade. I am confident that this partnership signals the start of further collaborations in the trade and investment space for both of our nations."
His Excellency also praised the prominent role the Ministry of Energy in the Kingdom of Saudi Arabia played to facilitate the agreements signed, encouraging Uzbekistan to benefit from the expertise of the Saudi Ministry of Energy in the field of energy – particularly clean and renewable energy.



Mr. Alisher Sultanov, Minister of Energy of Uzbekistan, said: "Most importantly, today's milestones show that we are delivering on our promises. Enhancing Uzbekistan's clean energy capacity involves many developmental and investment targets to be hit, over a period of time. By executing our plans efficiently, we will only attract more investment to Uzbekistan, and improve our nation's energy status. The Ministry extends its deep thanks to ACWA Power and the wider Saudi delegation for making this triumph happen. We look forward to a long and fruitful working relationship."
ACWA Power is also committed to training and upskilling 1000 local employees in Uzbekistan during the project's construction and operation phases, generating long-term, socio-economic value through knowledge sharing and job creation.



Mohammad Abunayyan, Chairman of ACWA Power, said: "As a proud Saudi company, we are privileged to play a vital role in supporting Uzbekistan's decarbonisation efforts and energy transformation, stemming from the international cooperation between Saudi Arabia and Uzbekistan under their progressive and visionary leadership. We would like to take this opportunity to thank the Saudi delegation, led by H.E. Khalid Al-Falih, Saudi Minister of Investment, and H.E. Hisham Mishal Al-Suwailem, the Saudi Ambassador to Uzbekistan for their valuable support of these projects. We also extend our gratitude to the Republic of Uzbekistan's Government, the Ministry of Energy and the Ministry of Investments and Foreign Trade for their confidence in ACWA Power's mission to safely, reliably and responsibly produce power at low cost.



Through the addition of new renewable energy capacity, exploration of innovative technologies and the advancement of cleaner, more efficient and cost-competitive gas power, ACWA Power is expanding its presence in Uzbekistan, a high growth market, leveraging our global expertise and technical know-how to create long-term and sustainable value for the country's local communities".



Sirdarya CCGT
The groundbreaking of the1500MW Sirdarya CCGT plant was marked by ceremonially commencing construction. The project will provide cleaner, more efficient and cost-competitive gas power that can be utilised across industries in Uzbekistan and is expected to meet 15 percent of power demand in Uzbekistan and comprise of 8 percent of installed power capacity when complete. With an approximate aggregate worth of $1.2 billion, the plant has an efficiency rate of over 60 percent - saving almost twice the natural gas currently used for electricity production compared with older plants in the country. Its design, operational, and real time monitoring structure is state of the art, engineered by global experts to drive the energy production process round the clock, to create a seamless flow through the air-insulated switchyard to the national power grid of Uzbekistan, while offsetting 2.2 million tonnes of carbon dioxide emissions each year.



Bukhara, Navoi Wind Projects
The two Power Purchase Agreements for the two wind power plants; with an aggregate power generation capacity of 1000MW was signed by Isakulov Dadajon Aynakulovich, Chairman of JSC "National Electric Grids of Uzbekistan" and Rajit Nanda, Chief Portfolio Management Officer and Interim CIO of ACWA Power. The two Investment Agreements were signed by H.E. Sardor Umurzakov from the Ministry of Investments and Foreign Trade and Mr. Abunayyan Chairman of ACWA Power.



The 'Bash' and 'Dzhankeldy' plants which are located in the Bukhara and the Bukhara/Navoi regions respectively, have a total investment value of $1.3 billion, and are expected to offset 1.6 million tonnes of carbon emissions per year. Powered by approximately 200 wind turbines, the projects will contribute one third of Uzbekistan's 3GW wind energy targets, supplying 2.7 million households and supports the government's aims to have 30 percent of its power capacity from renewable sources by 2030.



Cooperation on developing renewable energy and hydrogen programs
The Uzbekistan Ministry of Energy, ACWA Power (a leading developer, investor and operator of power and water assets) and Air Products (a world leader in hydrogen production and distribution), has entered into a strategic framework agreement to develop research programs and projects in the field of hydrogen and renewable energy, using the extensive experience of ACWA Power and Air Products. The agreement was signed by H.E. Alisher Sultanov, Energy Minister of the Republic of Uzbekistan and Mohammad Abunayyan, Chairman of ACWA Power.
This agreement will support Uzbekistan's ongoing efforts to reduce greenhouse gas emissions as part of global commitment to the Paris Agreement under the UN Framework Convention on Climate Change.
ACWA Power remains focused on extending its leadership in high-growth markets through operational excellence and technological expertise, delivering power and desalinated water to communities in thirteen countries worldwide.



About ACWA Power:
ACWA Power is a developer, investor and operator of power generation and desalinated water production plants. Registered and established in 2004 in Riyadh, Saudi Arabia; ACWA Power employs about 3,500 people and is currently present in 13 countries in the Middle East, Africa, Central Asia and Southeast Asia. ACWA Power's portfolio includes 62 assets with an investment value of USD 62.6 billion, producing 38.9 GW of power and 5.8 million m3 /day of desalinated water delivered on a bulk basis to address the needs of state utilities and industries on long term, off-taker contracts under utility services outsourcing and Public-Private-Partnership models.
ACWA Power's mission is to reliably deliver electricity and desalinated water at a low cost, thereby contributing effectively to the sustainable, social and economic development of communities and countries. ACWA Power is committed to the values of Safety, People and Performance in operating its business across all geographies. For more information, please visit www.acwapower.com.



About Air Products
Air Products (NYSE:APD) is a world-leading industrial gases company in operation for 80 years. Focused on serving energy, environment and emerging markets, the Company provides essential industrial gases, related equipment and applications expertise to customers in dozens of industries, including refining, chemical, metals, electronics, manufacturing, and food and beverage. Air Products is also the global leader in the supply of liquefied natural gas process technology and equipment. The Company develops, engineers, builds, owns and operates some of the world's largest industrial gas projects, including: gasification projects that sustainably convert abundant natural resources into syngas for the production of high-value power, fuels and chemicals; carbon capture projects; and world-scale carbon-free hydrogen projects supporting global transportation and the energy transition.



The Company had fiscal 2020 sales of $8.9 billion from operations in 50 countries and has a current market capitalization of about $60 billion. More than 19,000 passionate, talented and committed employees from diverse backgrounds are driven by Air Products' higher purpose to create innovative solutions that benefit the environment, enhance sustainability and address the challenges facing customers, communities, and the world.
Press Service of the Ministry of Energy
24.01.2021

1451