PROJECT UPDATE: Innovative GTL Complex on Schedule for 2021 Launch
Press center
PROJECT UPDATE: Innovative GTL Complex on Schedule for 2021 Launch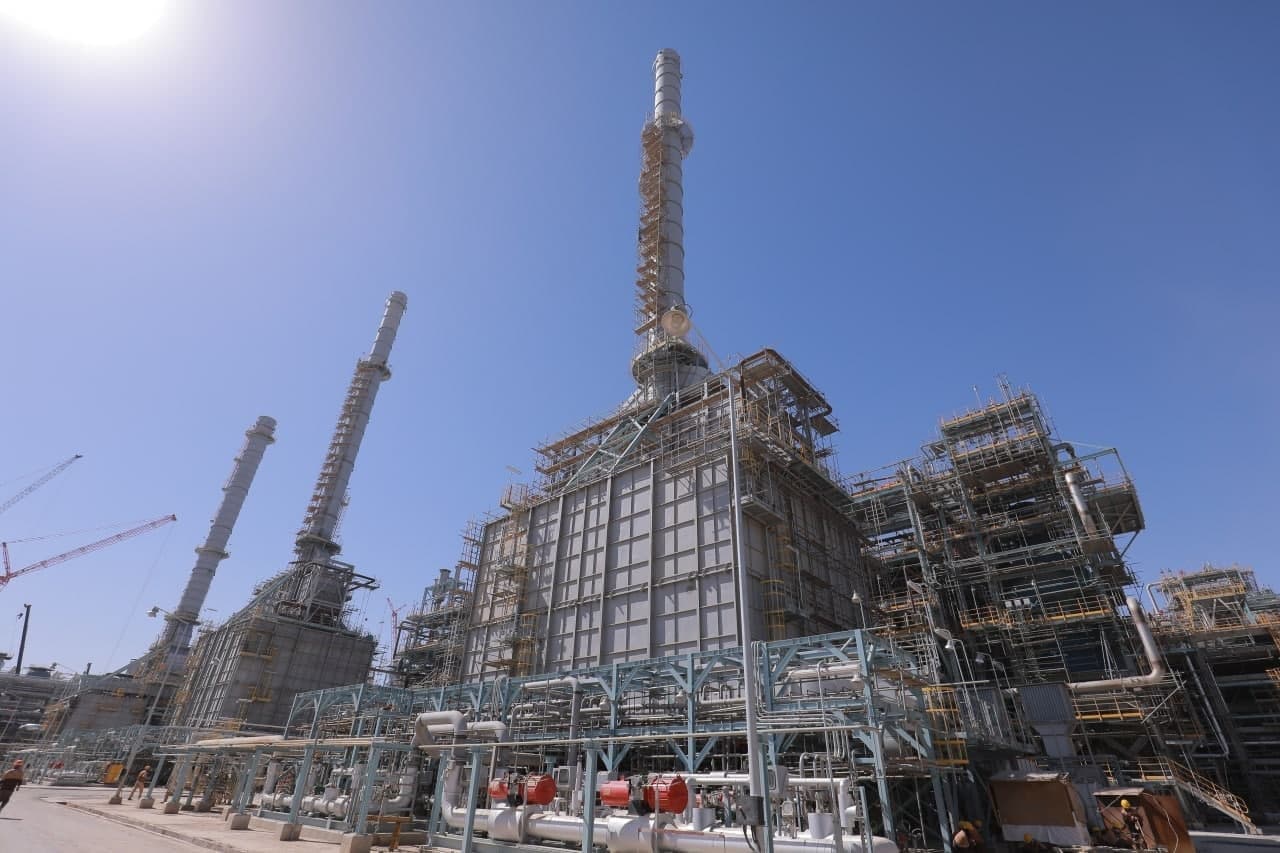 Uzbekistan GTL Complex will start up in 2021 and annually produce import-substituting petroleum products and hydrocarbons totalling over 1 billion USD or 12.8 trillion UZS.
The total cost of the GTL project is currently projected at 3.42 billion USD and is projected to generate a 10.2% internal rate of return (IRR), with a 9-year payback period.
The initial cost of the Project was estimated at 3.73 billion USD, but thanks to changes in design solutions and setting up of the first unified petrochemical cluster in the region based on the Shurtan Gas Chemical Complex and the GTL Complex, as well as due to reduced financing costs, the Project cost has been optimized by more than 310 million USD. The combined plans were created on the initiative of President Shavkat Mirziyoyev.
With the start-up of the GTL complex, the annual state tax revenues will exceed 2 trillion UZS.
In addition, given the constant growth of the energy market, the use of GTL fuel is one of the most effective, economical and safe ways to reduce emissions into the atmosphere.
The financial model of the Uzbekistan GTL project, unique in the post-soviet space in terms of its technology and the sixth in the world, was developed with the participation of such well-known international financial consultants as ING Group (Netherlands/UK) and Gazprombank JSC (Russia). Jointly with specialists of Uzbekneftegaz JSC, they prepared a comprehensive financial model for the project, taking into account such important aspects as its profitability, loan repayment terms, payback and other variables. The resulting data, in turn, were carefully studied and analyzed by potential lenders to the project in support of their project finance decisions.
As a result, decisions to participate in financing of the Uzbekistan GTL Project was made by such reputable financial companies as China Development Bank (CDB), Eximbank of Korea (KEXIM), Korean State Export Credit Insurance Corporation (K-SURE), Gazprombank, Roseximbank, and the Russian Agency for Export Credit and Investment Insurance (EXIAR). Their confidence in the profitability of Uzbekistan GTL made this large-scale project even more remarkable and dependable among modern international projects.
The UzGTL Plant is one of the largest investment projects not only in Uzbekistan, but also in the CIS countries. The project is aimed at expanding the capacity of Uzbekistan in deep processing of natural gas, substantially reducing the import of hydrocarbons, as well as strengthening the energy independence of the Republic.
It is important that the feedstock will be purified commercial gas processed at the Shurtan Gas Chemical Complex – which produces a range of polymers by extracting such components as ethane, propane, butane, etc. from natural gas.
At the same time, the GTL-produced naphtha will be supplied to expansion facilities of Shurtan Gas Processing Plant to scale up production of polymers, thereby creating a single petrochemical cluster.
Thanks to innovative technologies, the already processed gas will be used to produce import-substituting, in-demand and highly liquid and high value-added products. The GTL complex will process 3.6 bcm/year of gas, to produce 1.5 million tons/year of high-quality and eco-friendly synthetic fuels, including such oil products as 307,000 tons of kerosene, 724,000 tons of synthetic diesel fuel, 437,000 tons of naphtha and 53,000 tons of liquefied gas.
The products will primarily be supplied to fulfill domestic demand for petroleum products, especially diesel fuel and kerosene, as well as liquefied gas. In addition, due to their high quality and eco-friendliness, there is a potential to export them to neighbouring countries.
Moreover, the issue of electricity supply to Uzbekistan GTL was resolved using an innovative solution of off-grid power generation from the excess steam generated during the production process. Therefore, the plant will not only independently generate the power required for its operation, but, if necessary, supply additional electricity to the national power grid as well.
The choice of GTL technology is not just about import substitution of synthetic liquid fuels, which today are in global demand, but also about the products' environmental friendliness. The use of 100% GTL fuel in diesel vehicles will help improve air quality by reducing emissions. The innovative GTL diesel fuel burns with virtually no toxic waste, and cuts carbon dioxide emissions as well.
In addition, high technologies of the GTL Project are creating a new generation of specialists in Uzbekistan. The project is designed using cutting-edge technology solutions from such leading companies as Sasol (South Africa), Haldor Topsøe (Denmark), Chevron (USA) and Honeywell.
Construction of this Plant has employed over 13,000 people. The Plant start-up will create about a thousand permanent jobs. To ensure quality operation, the Plant is implementing a special training program, which has already provided specialized training to around 150 engineers in automated production and process control system at Honeywell Technology Centre in Tashkent, which has an installed GTL Plant Control Panel simulator. Thanks to this advanced device, it is possible to organize a full-fledged simulation of the technological process, including emergency and contingency situations, and prepare engineers for various scenarios and stages of monitoring and management of the Plant's production cycle.
In addition, as part of the training, almost 400 young specialists were trained at Bukhara oil refinery, Shurtan and Ustyurt gas chemical complexes, and 25 engineers were trained at the Oryx GTL Plant (Qatar), a reference facility for the project.
Uzbekistan stays at the technological cutting-edge creating production facilities for production of such valuable raw materials as natural gas, and high value-added products, which are in high demand in both the domestic and foreign markets.
The export of gas, as a cheap raw material, is being replaced by the creation of high value-added products through deep processing of hydrocarbon feedstock. Not only will creation of domestic natural gas based high-tech products cover our domestic requirements, it will ensure a significant growth in inflow of foreign currency to Uzbekistan as compared to feedstock exports. The revenues from the production and sale of GTL products are at least 2.5 times higher than those from gas exports.
Along with that, in the future, there is a potential to set up new production facilities for the production of petrochemical products, such as LAB (linear alkylbenzene), LAS (linear alkylbenzene sulfonate), hexene-1, butene-1, synthetic oils, paraffin pellets and other products on the basis of the GTL Plant, opening up new opportunities for further deep processing of hydrocarbons and development of the oil and gas chemistry in the republic.
This promises a more efficient use of natural gas, allowing more efficient gas consumption, and will help us achieve the goal of ensuring that the natural wealth of the country is used by our children, grandchildren and future generations.
Press Service of the Ministry of Energy of the Republic of Uzbekistan
22.06.2021

1504