International Roundtable on "Accelerating Renewable Energy Development for Clean Energy Transition in Uzbekistan" Jointly Organized by the Government of Uzbekistan, European Bank for Reconstruction and Development (EBRD) and World Bank Group (WBG)
Press center
International Roundtable on "Accelerating Renewable Energy Development for Clean Energy Transition in Uzbekistan" Jointly Organized by the Government of Uzbekistan, European Bank for Reconstruction and Development (EBRD) and World Bank Group (WBG)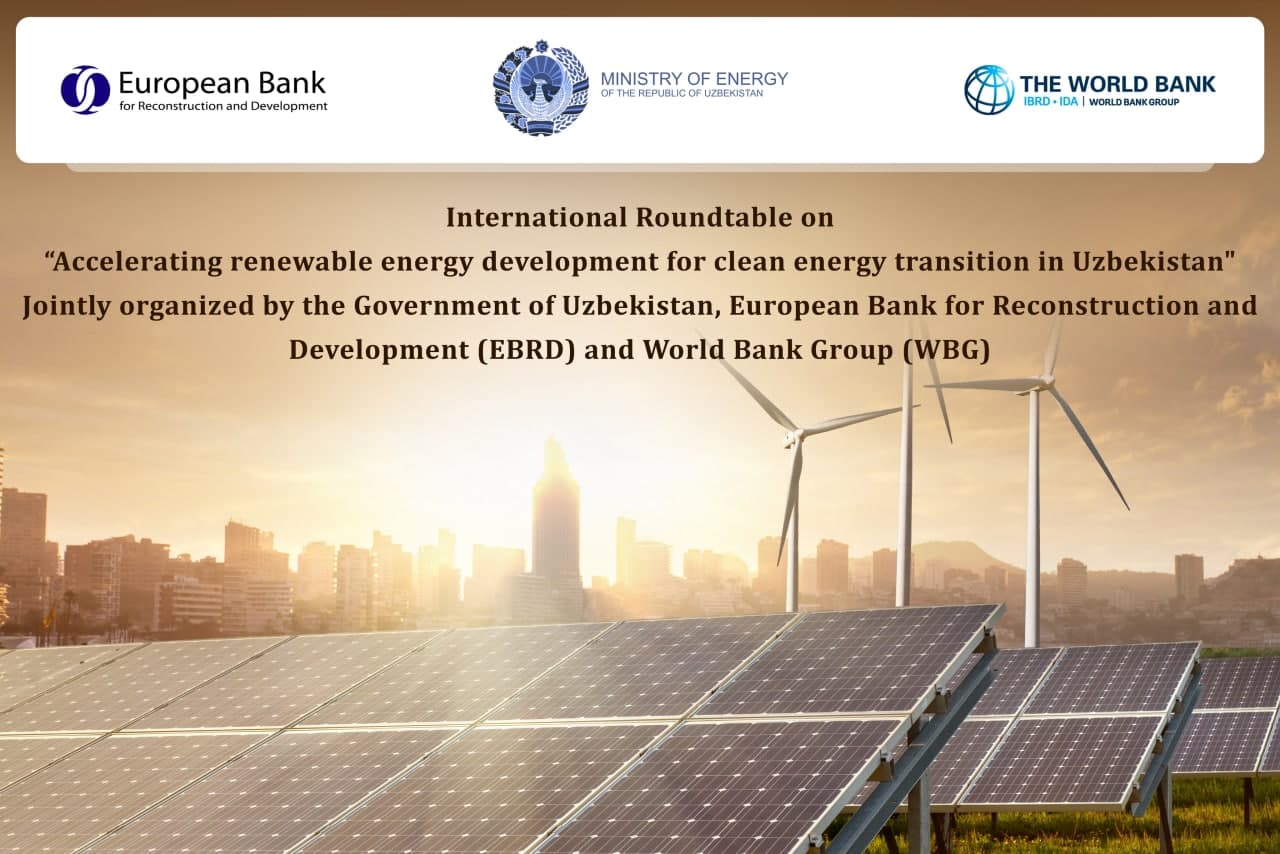 International Roundtable on
"Accelerating Renewable Energy Development for Clean Energy Transition in Uzbekistan" Jointly Organized by the Government of Uzbekistan, European Bank for Reconstruction and Development (EBRD) and World Bank Group (WBG)
Date: July 14, 2021
Time: 14:30-20:30 (Tashkent time)
Venue: Videoconference connection
Objective: To scale-up renewable energy deployment within the auspices of clean energy transition agenda of Government of Uzbekistan. The workshop will present current status and future plans and draw on good practices on strategy, policy, regulations, modern technologies, private sector participation and innovative financing mechanisms.
Target audience: Policy makers, implementing agencies, and other stakeholders (advisors, think tanks) in Uzbekistan and its energy sector. Specifically, the Roundtable will invite Ministry of Investments and Foreign Trade, Ministry of Economic Development and Poverty Reduction, Ministry of Finance, PPP Development Agency, and sector companies. Asian Development Bank, European Bank for Reconstruction and Development, and World Bank Group (WB and IFC) will also join the Roundtable and discuss potential support to foster the clean energy transition in Uzbekistan. Moreover, other IFIs and international companies will participate.
Partnering organizations: Jointly organized by the Government of Uzbekistan, European Bank for Reconstruction and Development and World Bank Group.
Topics to be covered:
· Development of renewable energy in Uzbekistan: progress, challenges, barriers and new wave of reforms.
· Enabling environment for renewable energy development in Uzbekistan, including legal and regulatory framework, and institutional responsibilities.
· Government initiative on transitioning to a competitive wholesale electricity market.
· Clean energy transition and decarbonisation of the energy sector.
· Role of renewables in reducing GHG emissions and addressing global pollution challenges in line with Paris agreement and NDC.
· Supporting youth and promoting gender equality on renewable energy agenda.
· International experiences and lessons learned in renewable energy development.
· Role of private sector and financing in scaling up renewable energy sources,
· Technological aspects of renewable energy and hydrogen development; and
· Potential support from development partners in accelerating clean energy transition and energy sector decarbonisation in Uzbekistan.
International Roundtable on
"Accelerating Renewable Energy Development for Clean Energy Transition in Uzbekistan" Jointly Organized by the Government of Uzbekistan, European Bank for Reconstruction and Development (EBRD) and World Bank Group (WBG)
Date: 14 July 2021

Time: 14:30-20:30



Venue: Online

Registration

14:30-15:00

-

Registration

Opening Remarks

Moderator: Alkis Drakinos (EBRD)

15:00-15:10

-

Alisher Sultanov, Minister of Energy of the Republic of Uzbekistan

15:10-15:17

-

Aida Sitdikova, Director, Energy Eurasia, Middle East and Africa, EBRD

15:17-15:25

-

Tatiana Proskuryakova, World Bank Country Director for Central Asia

15:25-15:32

-

Cassandra Colbert, IFC Manager for Central Asia

15:32-15:40

-

Joonho Hwang, Director, Asian Development Bank

Session 1: Clean Energy Deployment & Transition to a competitive electricity market

Moderator: Ferhat Esen(WBG)

15:30-15:50

-

Overview of renewable energy development and planned energy market reforms in Uzbekistan (Sherzod Khodjaev, Deputy Minister of Energy)

15:50-16:05

-

Development of renewable energy within the environment of wholesale market transition
(Budak Dilli, Senior Advisor to the Minister of Energy of Uzbekistan)

16:05-16:20

-

Low carbon pathway for the energy sector of Uzbekistan and ways to end the country's dependency on conventional fuels by 2050. A new electricity market model for a new clean energy strategy (Cristian Carraretto and Giuseppe Grimaldi, EBRD)

16:20-16:35

-

Renewable energy development and it's potential: Case study of China (ADB)

16:35-16:50

-

Questions and answers

16:50-17:10

-

Coffee break

Session 2: Potential IFIs support in upscaling clean energy development in Uzbekistan

Moderator: Veronika Krakovich (EBRD)

17:10-17:25

-

Decarbonizing the integrated energy sector in Uzbekistan and World Bank support (Maksud Safarov, WBG)

17:25-17:40

-

Supporting renewable energy and promoting youth inclusion and gender equality in the power sector (Malika Mirsaidova, EBRD)

17:40-17:55

-

Promotion of small-scale renewable energy sources (ADB)

17:55-18:10

-

Questions and answers

18:10-18:25

-

Coffee break

Session 3: Power and grid system preparedness for renewable energy integration. Initial steps and initiatives on hydrogen development in Uzbekistan

Moderator: Seung Duck Kim (ADB)

18:25-18:35

-

Role of private sector in renewable energy development (IFC)

18:35-18:50

-

Power and grid system preparedness for variable renewable energy integration (NEGU / WBG)

18:50-19:05

-

Hydrogen development in Uzbekistan: initial steps (ACWA Power)

19:05-19:20

Hydrogen development in Uzbekistan: initial steps (Air Products)

19:20-19:35

-

Questions and answers

Closing remarks

Moderator: Zafar Khashimov (IFC)

19:35-19:40

-

Moderator to wrap up key discussion points, agreed actions and next steps

19:40-19:45

-

Sudeshna Ghosh Banerjee/Sameer Shukla, Energy Practice Manager, Europe and Central Asia (World Bank)

19:45-19:50

-

Cassandra Colbert, Manager for Central Asia (IFC)

19:50-19:55

-

Joonho Hwang, Director, Energy Division, Central and West Asia Department (ADB)

19:55-20:00

-

Zsuzsanna Hargitai, Managing Director, Central Asia (EBRD)

20:00-20:10

-

Alisher Sultanov, Minister of Energy of the Republic of Uzbekistan

20:10-20:30

-

Media briefing
13.07.2021

6053