Opening of Financial Proposals of investors for the Wind 100MW Power Plant Development in Uzbekistan
Press center
Opening of Financial Proposals of investors for the Wind 100MW Power Plant Development in Uzbekistan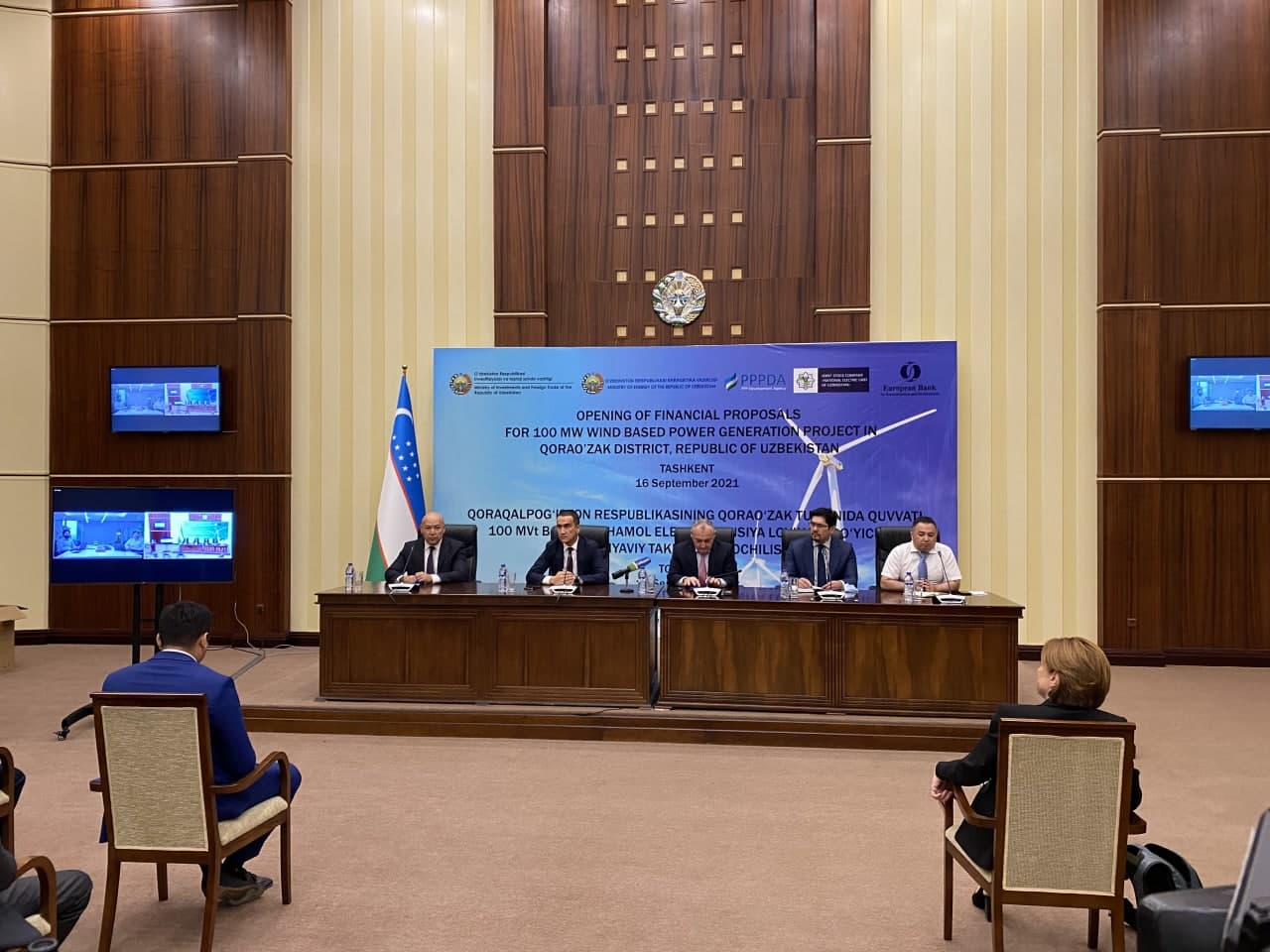 The Ministry of Energy of Uzbekistan is pleased to announce the financial proposals of the investors/bidders in their contest to become the independent power producer to develop the 100MW Wind farm in Karakalpakstan region.
Clean and renewable energy from this new 100 MW Wind farm is expected to feed Uzbekistan's grid in less than 2 years.
ACWA Power of Saudi Arabia, Masdar of the UAE and Voltalia of France submitted their technical, commercial and financial proposals as their bids to become the developer of the wind farm. ACWA Power has become the preferred winning bidder with a tariff proposal of 2.5695 US cents per kilowatt-hour. Masdar with 2.6550 cents per kWh and Voltalia with 3.279 cents per kWh.
Sherzod Khodjaev, Deputy Minister of Energy, said:
"Uzbekistan is making huge strides towards producing and providing 'green energy' for its economy, decreasing the country's dependence on fossil fuels and reducing overall CO2 emissions. This project is key component of our ambitious, wider energy strategy to develop environmentally friendly renewable sources of energy to meet growing electricity demand.
We are proud to cooperate with the EBRD, and other international partners as we join the international community of wind power generators."
Uzbekistan is working closely with the EBRD to open the country's energy sector to private investment and attract foreign capital in an efficient and transparent manner, as well as to reduce harmful emissions into the atmosphere and develop a joint decarbonization program.
The plants are part of a wider programme by Uzbekistan to develop 3 GW of wind by 2030 and this target is expected to be increased in the next review of the long term development plan. Once implemented, the project will develop Uzbekistan's wind potential, help reduce annual greenhouse gas emissions by 160,000 tons of CO2 equivalent, and generate an additional 350 mn kWh of electricity.
Press Service of the Ministry of Energy
of the Republic of Uzbekistan
16.09.2021

2120