Uzbekistan's Ministry of Energy hosts international webinar on current and future developments in the country's energy sector
Press center
Uzbekistan's Ministry of Energy hosts international webinar on current and future developments in the country's energy sector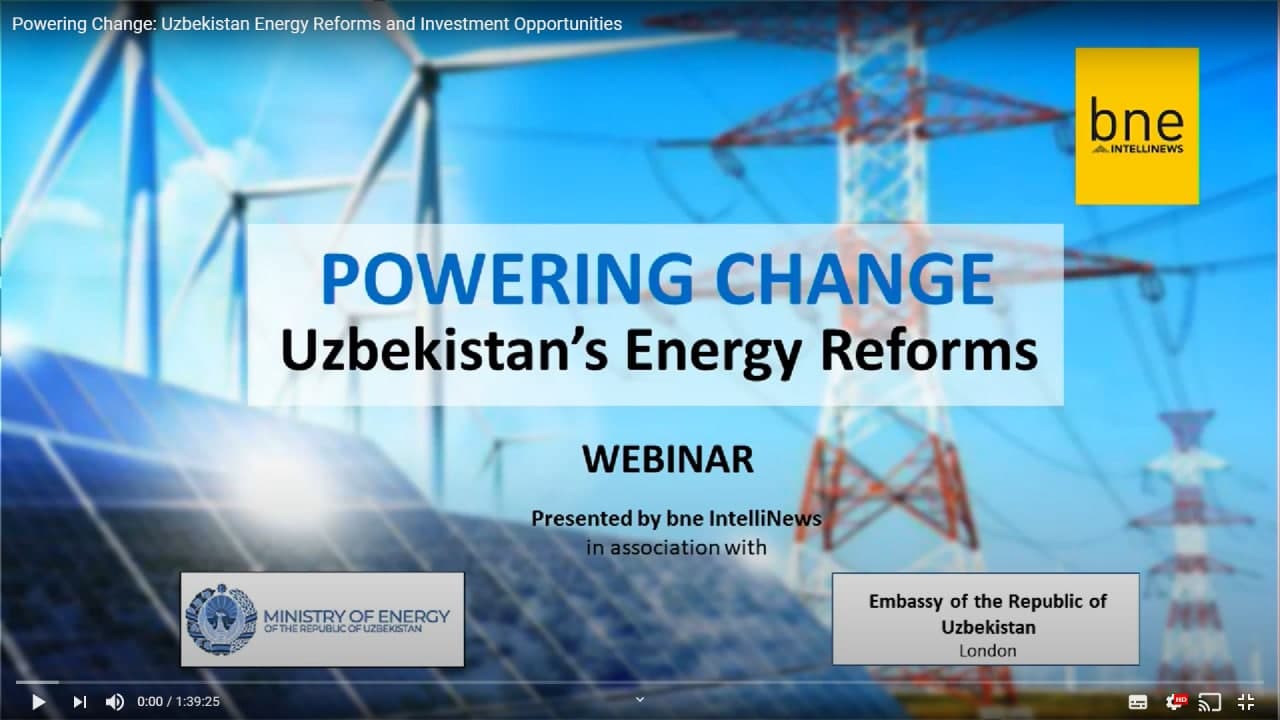 The Ministry of Energy of Uzbekistan is pleased to announce it recently held an international webinar on current and future developments in Uzbekistan's energy sector.
The webinar - 'Powering Change in Uzbekistan' - was hosted and moderated by international news organisation bne IntelliNews and organised by the Ministry of Energy, in collaboration with the Embassy of the Republic of Uzbekistan to the United Kingdom. It was attended by current and potential investors, journalists, and representatives from major banking and professional service firms in the UK and internationally.
The event explored current and future developments in the energy sector as Uzbekistan pursues its goal of a modern, open and market-based economy. Attendees gained valuable insight into the changes, goals and, critically, major opportunities opening up for international companies and investors.
The opening address was given by Said Rustamov, Uzbekistan Ambassador to the UK who confirmed:
"Uzbekistan is committed to continuing its reforms despite the negative consequences of the coronavirus pandemic. There is a clear understanding in Uzbekistan that this is the only way to ensure the long-standing economic and social development of Uzbekistan and provide opportunities for a good life to its 34 million strong, predominantly young population.
"Reforms in Uzbekistan are irreversible and are an integral part of the New Uzbekistan".
Webinar speakers included:
Bekhzot Narmatov Deputy Minister of Energy, Uzbekistan
Bakhrom Umarbekov Deputy Director, Reforms Implementation Office, Uzbekistan
Nigora Ibadova Advisor to the Chairman, Enter Engineering
Tom Teerlynck Vice President, ACWA Power (Saudi Arabia)
Shozey Jafferi Advisor, UK Department of International Trade
Inna Oleinik Head of Corporate Coverage CIS, Deutsche Bank
Bekhzot Narmatov, Deputy Minister of Energy outlined the major ongoing reforms to the oil and gas sector and confirmed Uzbekistan's ambitions to introduce private utility and production companies into the sector via the privatisation of existing state assets.
"There are a lot of things going on in Uzbekistan, especially in the economic sphere and on top of that in the energy sector. The energy sector is the locomotive of economic growth and without energy it's hard for the economy to grow. We're taking a number of steps to reform it, including in the oil and gas sector.
"In the near future we will see the privatisation of the main sectors and private utility and production companies. In fact, many things will come as long as we are prepared to cooperate and work with international financial institutions and consultants. The challenge is that we want to achieve something that has been done in other countries in 15 years, in five years."
Mr. Narmatov confirmed:
Ongoing legal and regulatory reforms - including creation of a Single Law on Hydrocarbons - are on schedule for 2023 completion. Similarly, progress on financial reforms, chiefly re: tariffs for transportation/distribution of natural gas, is on course for 2024 completion
In line with international best practice – 2021 will see an independent natural gas regulator established. A corporate governance code will also be introduced
He also outlined future planned sector reforms, including digitisation, major human capital reforms and the introduction of green and energy efficient technologies.
In answer to a question about the timeframe for the adoption of legislation related to PSAs, the Deputy Minister confirmed draft changes to the legislation have been submitted to the Senate and, subject to any further changes, is expected to be finalised in Q1 2021.
Bakhrom Umarbekov, Head, Reforms Implementation Office updated attendees on the state of the power sector in Uzbekistan and ongoing reforms.
"These are very exciting times for Uzbekistan. We're making big steps in our reforms and in our PPP projects. We welcome investors to come and invest in Uzbekistan's power sector and take an active part in developing it."
Mr. Umarbekov confirmed:
Further reforms of JSC National Electric Networks and JSC Regional Electric Networks - the buying and selling of electricity functions will be removed from both entities;
Plans for the wholesale power market, and retail power market - to be operational - by 2023/24;
Negotiations are ongoing for several power projects, including with ACWA Power for a 1,000 MW wind power plant; and
Feasibility and environmental studies for Uzbekistan's proposed nuclear power plant are ongoing with further updates to follow once completed
The webinar is available to watch again at the following link:




Press Service of the Ministry of Energy
of the Republic of Uzbekistan
19.11.2020

1008